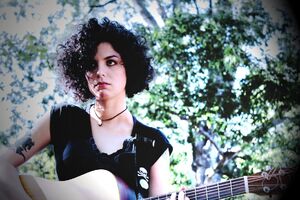 Amanda Lepre
Descendants of Erdrick
,
Those Who Fight

USA

Rock
,
Metal
,
Acoustic
,
Vocal
With rich soprano vocals and aggressive, "pop-metal" acoustic guitar riffs, Amanda Lepre's music feels like strapping on armor and suiting up for an epic journey. Her driving melodies and lyric imagery make it easy to picture the heroes of classic literature and video games that often inspire her songwriting.
Originally from the Rio Grande Valley, Amanda Lepre (pronounced "leh-PREE") has been living and performing in Austin, TX for 9 years. She began her career by networking with Austin musicians at coffee shop open-mic nights and by playing small gigs in local venues. Over the past decade she has developed a stylistic niche and built an enthusiastic multi-city audience. To generate an even larger buzz, Amanda embarked on an East Coast mini-tour in April 2012, covering Boston, New York, Philadelphia, and Baltimore.
Amanda's first full-length album, Beneath the Forest of Error, was released in June 2012 under her own production company, Infermore Music. With 11 complete tracks, the album is a progressive, acoustic-metal journey of heroism, triumph, and despair, interspersed with numerous nods to The Inferno, by Dante Alghieri, and various other pieces of literature, pop-culture, and classic video games.
In Austin, Amanda performs either solo or with her live band, composed of bassist Thad Stevens, keyboardist Jay Davis, and drummer Jim Watson, creating both a sound and a show nothing short of energy and intensity.
For touring and out-of-state shows, her live band is composed of bassist Kyle Hoke, and keyboardist Mateo John Marshall.
Never satisfied with a dull moment, Amanda also plays in various music groups, most notably as the founder and co-guitarist of Austin's premier video game tribute band Descendants of Erdrick and co-guitarist/vocalist 'Crusader' for Final Fantasy-themed rock opera Those Who Fight.
Discography
Edit